Hi everybody!
Nelly is coming on some of my afternoon walks now! We have had a little problem with carsickness with her but Mum found her an homeopathic remedy to treat it and … there is no stopping my little sister now!
Here we are on our way to the Lakes.
It's a lovely gently sloping 'beach' where you can run and run … We played and played. We had a brilliant time.
And when we got back home it was time for a cuppa …
These are Mum's pride and joy. Santa (Mike and Kate) got her the one on the right and because she loves them so much she got the one on the left as well. They are from Ragtail Airedales.
Mum just loves Annie Curran's work.
We have some exciting news. Our friend Brenda's boy – Martin – is a builder and has started to build some garden walls and pillars to hang some gates on! We had to prepare the garden and move some storage boxes which had a lot of dad's manuals  in. I had the important job of guarding them while they were in transit.
… and Nelly was helping in the kitchen whilst Mum prepared sustainance for the troops.   Nelly is always there when Mum cooks – usually nailing her feet down to the floor by lying on top of them. It was meat loaf the other day … she was sooo attentive …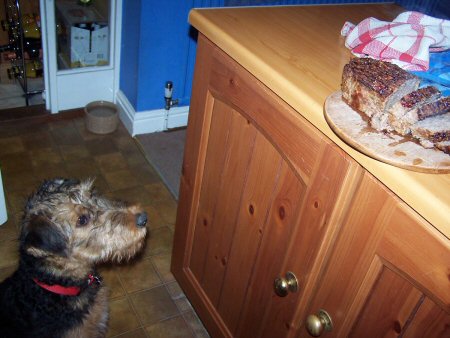 Anyway, Martin is coming on Monday to start building – weather permitting! 😀
A little while back our good friend Ludo the cool dude gave us this award
Thank you Ludo, we are really honored to receive this!
The award states: "This blog invests and believes in PROXIMITY – nearness in space, time and relationships!" In other words, blogs that receive this award "are exceedingly charming. These kind bloggers aim to find and be friends. They are not interested in prizes or self-aggrandizement. Our hope is that when the ribbons of these prizes are cut, even more friendships are propagated. Please give more attention to these writers! Deliver this award to eight bloggers who must choose eight more and include this cleverly-written text into the body of their award."
Most of our blogging friends have already received this award, but if you haven't please consider yourself awarded. We love reading all your blogs.
Have a great weekend!
Finni