Molly is all packed and ready to go on her first ever holiday!
After 10 hours driving and making stops we arrive at our home for the week near the Moray Firth … a cozy log cabin with balcony.
These are our 'neighbours' 😉
There are lots of woodland walks in the area.
Molly takes everything in her stride, crowds of people …
and dolphins feeding close to shore at Chanonry Point.
She loves beach combing!
Having a rest at the log cabin in between outings.
A few nights were a bit chilly so we warmed up in front of the wood burner.
The view from the balcony.
One of our outings was to Chromarty Pottery and Lighthouse on the Black Isle.
Investigating Rosemarkie Beach – best beach in the world!
Glen Affric
Glen Affric.
Waiting for Mum & Dad
Rogie Falls, famous for it's Salmon jumping.
Just Molly 🙂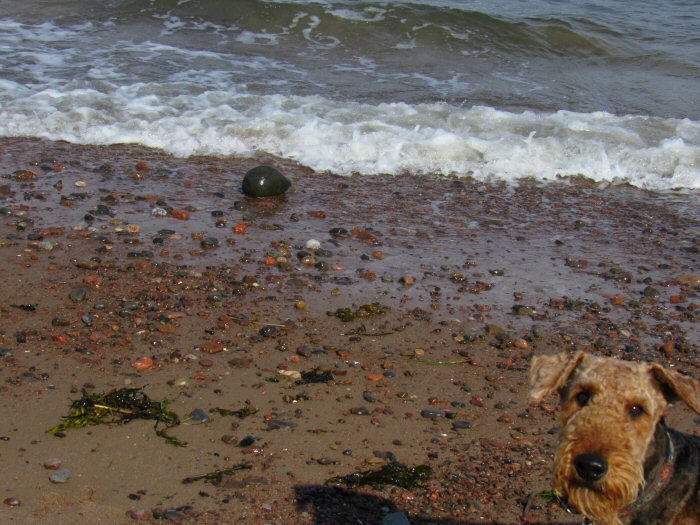 Another visit to Rosemarkie Beach – we really liked it there! 😀
Life-size sculpture Carvings in somebody's garden!
In true Airedale style Molly made friends with the three cool kids in the next cabin.
Playing football with Liam
Of course we had to try some Haggis! Mum tried a smell, Dad tried a mouth full and Molly said 'Nom, nom! Yes please!'
Considering I used to have to carry her past cows she did exceptionally well watching them calmly from this close! 😀
We'll be back!