Nelly moved in on 30th November 2008. She was already 12 weeks old.
We are both Shadlian pups but not closely related. She was really shy when we first met and kept hiding …
anywhere I couldn't get to her.
… but she soon got to know me.
and started to feel right at home.
She took to the BARF diet like a duck to water.
With Nelly's arrival came a whole lot of new toys!!!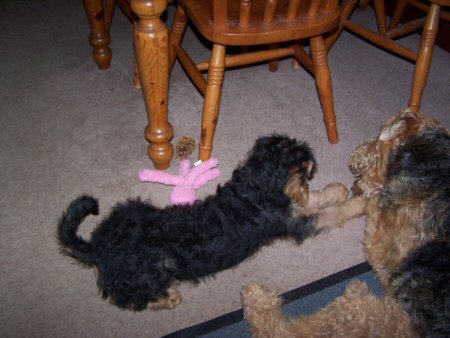 I kind of insisted on testing them for her … to make sure they were suitable for a puppy of course.
Like me she chose an elk as one of her favourites.
Nelly's ears were a bit lop-sided. Her left ear folded too low down on her head and she had to have her ears glued.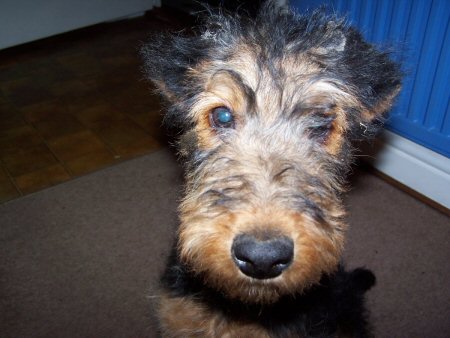 She didn't like it one little bit but I told her that I had my ears glued at that age and it would soon be over. The glue stayed in for 1 week and it did the trick! Both ears now fold in the same place.
She had to learn about a lot of new things … like having a collar on and being attached to a lead. So at first she couldn't come on walks with me.
But she waited patiently for me to come back.
so that we could play bitey face – our favourite game! She starts it by biting my legs because she knows it drives me nuts!
We get on great though sometimes we have little arguments … but we soon make up.