Nelly and I had a great time being part of the Gooberstanian Beard Growing Competition, so much so she is now practicing for another one …
She paused there for a moment because she couldn't remember how it goes. However, this is the finished article …
Not bad …  hey?! Now all we have to do is find an 'Entrance Mat Origami' competition …
Nelly is learning very quickly. The other day I was giving her a lesson in 'Elk Appreciation'. We each took an elk into the living room and gave them a good chewing over …
But then she started playing the 'I want your elk' game.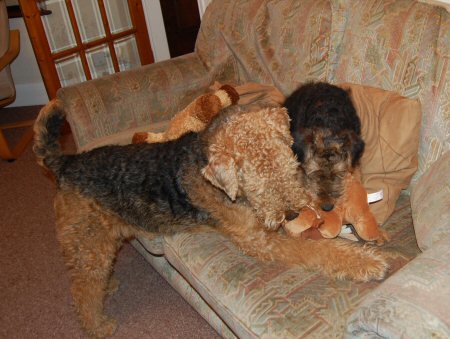 She's pawing my elk!
No, Nelly, you can't have it. This is my favorite elk that Santa brought me.
Right then, you put your nose into the hand hole like this …
No Nelly, you can't have it! Aaaaaah …. my ear!
Well, then the whole thing just deteriorated into an all out wrassling match. Nelly has 9 new teeth now …
And guess who ended up with my elk?????
But I don't mind. I love my little sister.
Bye for now.
Finni