It's May 07 and we're camping in Snowdonia.
The first thing we do when we arrive at the campsite is check out the area!
It's a great area for walking and great views!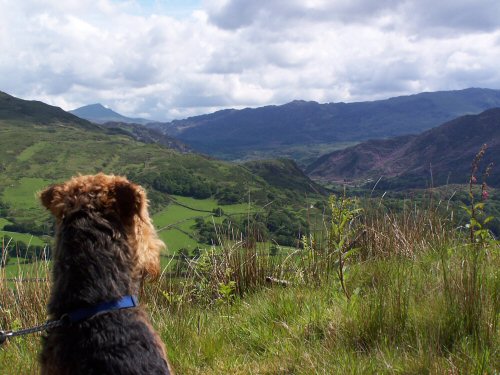 Every so often we come across a little stream for refreshment.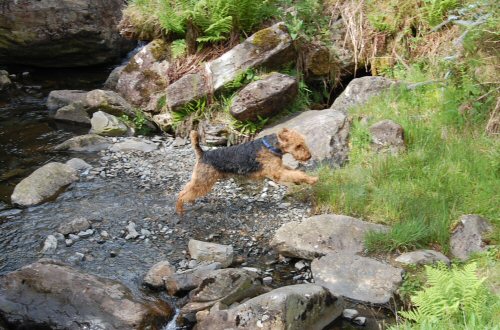 The other thing we saw a lot of was … sheep.
We had a day at the seaside at Black Rock Sands where we met Missy. She was great fun.
It was pretty windy. It made one of my ears stick up all the time!
Then we found this red thing and I wasn't sure at first …
So I stalked it.
Boys will be boys.
I woke everybody up every morning – nice and early,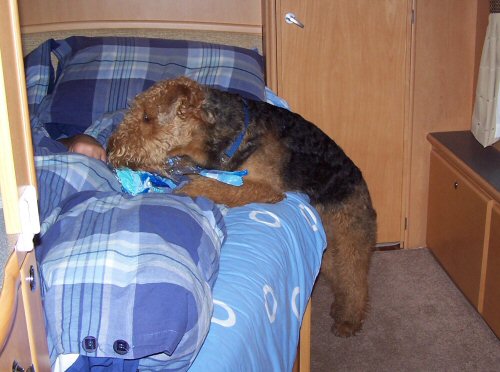 and in the evenings I made myself nice and comfy. Note: caravan has matching Airedale upholstery – black and tan. Very handy!
One day we went exploring through the long grass. Apparently I look like somebody from star wars on this picture… Joda or somebody…
We had fun rock hopping.
We'll be back. Snowdonia is great for Dales!