Hi Everybody!
It's been a while since we've blogged. We have been very, very busy. But first of all Nelly wants me to show you what we had for Tea tonight!!! She loves food with a passion! Mum says it's very good for training. Not like me who used to say "I might come. What exactly have you got in your hand?"
Oi, Dad! Don't pinch the pancakes! Leave some for us!
Mmmmhh! Filled pancake!
cut in half and sitting on top of our BARF mix. Nelly always finishes her food first. She also totally cleans both our dishes after we have finished eating. She is also a BIG counter surfer…
Since our last blog entry we've had snow – proper snow!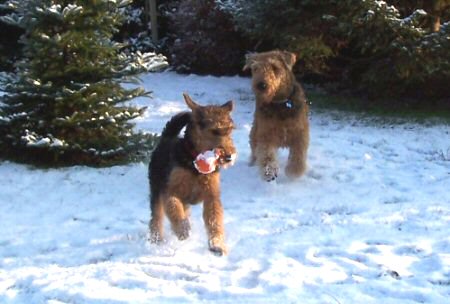 and we played and played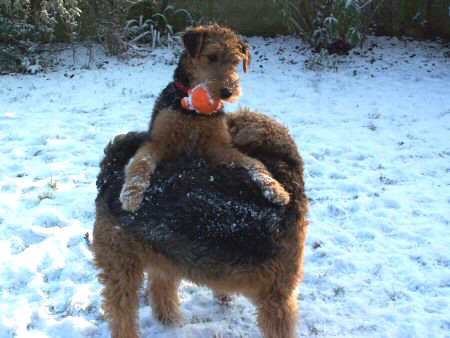 I even settled down with a chewie I unearthed
And since the snow has melted Brenda's boy Martin has been at our house building … a wall!
On this photo it's not quite finished yet. Mum couldn't wait until the gates are hung so she barricaded all the exits and we could play on the back garden without being attached to the washing line!!! Yeah!!! [Mum: Our plot is about 1/3 acre. The back garden is the largest part of the plot and away from the busy road. It's bliss!]
Now Nelly and I can play to our hearts content while Mum is pottering in the garden. Oh yeah, Nelly keeps pinching Mum's gardening gloves, hehe, she is really naughty. She pretended to be the Andrex puppy once … carried a 12-pack toilet tissue into the garden and gave it extra 'perforations' – lots of them.
We have been hanging out together a lot. Nelly is nearly as big as me now and comes on every walk with me. Mum decided it was time the day we came home and Nelly had rearranged the entire downstairs including the vertical blinds!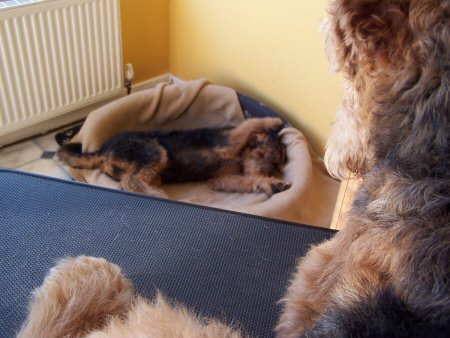 She still isn't too sure about the grooming thing tho'.
We are very busy sending loads of Aire Zen to Portland, USA where Bogart's Dad Klaus is in hospital and very poorly at the moment. Get better quickly Klaus so Bogart can have his Dad back! Nelly is sending loads of licks – she is the Florence NightingDale in our house. She likes to lick everybody's ears. I rather like it but Dad insists on putting his fingers in his ears …
From Nelly and me
Bye for now
Finni