Hi all,
I've just realized June is nearly over and I haven't blogged!
Well, I'm still guarding but Mum & Dad say the house will be finished this week. Whilst Mum and Dad have been doing that I have made myself useful checking for rabbits…
… and not just at home. I have been on Rabbit patrol whilst out in the fields as well!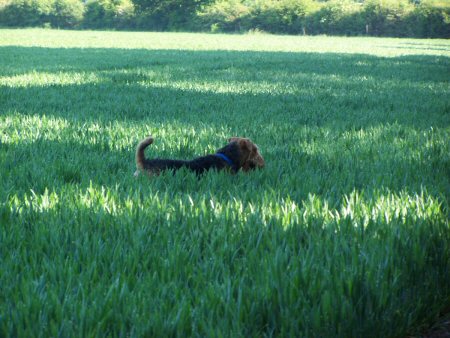 Sometimes we meet up with my friend Snoopy. That is always fun, and we play and play.
Just lately we have been making a new friend … Scooby
She is great fun too. She is a German Shepherd / Doberman cross and has lots of energy. We meet up once a week now.
One day Dad decided to do some gardening. He started to cut the hedge in my puppy garden, but I think he got a bit carried away.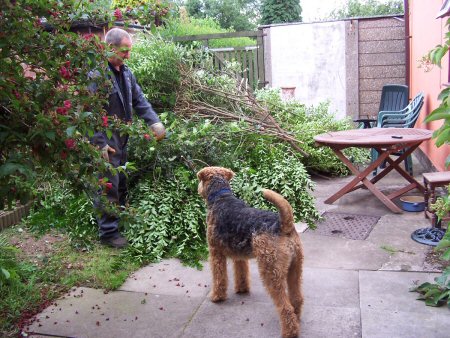 This is what it's supposed to look like Dad!
You know, just a little light trim. Hehe. I think they've got plans …
Anyway, the other thing we've been doing a fair bit of was playing with my favourite toy … elk.
When Dad puts his hand in there elk comes alive and we wrassle like this …
I just love the noises Dad makes when we play!!!
As you can see I'm a woolly mammoth again, but I'm booked in for an 'Airecut' next Wednesday. Thank goodness. I'm getting hot on my walks and have to find puddles to lie down in.
Oh yeah … Hi Sally and Rufus and Saint Lover. Thanks for coming by my blog! Hope it's ok to link to you guys! Thanks everybody who has voted for me at the Bone Zone. It was fun.
Bye for now.
Finni