What a lovely day! I like to scout a little ahead on my walks. And to cool me down I take a little dip in the river.
Mum finally remembered to take the camera on one of our last walks and she managed to get a picture of my friend Martha.
Here we are all meeting up – me, Martha and Scooby
We all get on really well.
Amelie is nearly 9 months old now and is crawling! She is fast!!! She comes to our house once a week and we play.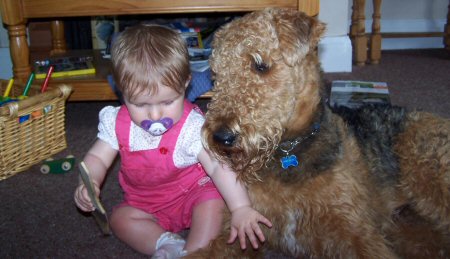 We like the same toys … but I'm not allowed her dummy. This strangely makes it into the most interesting object in the house … sigh.
It's all turned out ok, but I was worried not so long ago, because I thought …
… She eats dogs!
Bye for now.
Finni