I've been given an Award! I knew 2008 would be a good year! Thank You Molly and Taffy. I'm glad you enjoy my blog.
I have to say I love reading everybody's blog too. And I love the pictures! It's good to share.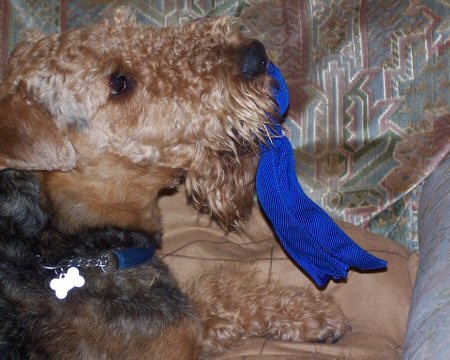 Maggie and Mitch have also tagged me to list 7 weird things about me. So, here goes …
1) I love buttercroissants, if they are not butter I spit them out. I don't like toast without cheese or butter on it … I spit that out too. I'm just a dairy lover.
2) I have to bite something when I hear a trailer, trolley jack or wheelie bin. The veranda banister looks a bit worse for wear…
3) Sometimes when I'm in the garden and get shouted to come in I don't want to, I sit or lie down (just letting my mum know "No, it's not time yet!"). As soon as she comes out with my best lead I grab it and pull her indoors.
4) I love rubbing up against people's legs like a cat. I arch my back when I get stroked. … just a bit like a cat.
5) I go to bed at 8.30pm every night. When I was a puppy they tried to 'lift' me in the evening to go in the garden for a last wee but I just lay down and carried on sleeping – when a boy has got to sleep he's gotta sleep.
6) When I meet any other dog on my walks I always go into a 'down'. It doesn't matter if I have met them lots of times before.
7) Anything my mum wants to pick up of the floor I put my paw on – "Just a minute! Do I need this? No, ok, you can have it." Sometimes she is too quick tho'.
And we made more friends. Kimi is an Airedale who we got to know when I was a teeny boy. The pictures of him on a raw feeding site really gave my mum the confidence to start me on raw as soon as I moved in. Cheers Kimi and Sheila. We'll link to your blog as well and will drop in as often as we can.
And we know Molly and Gertrude from Planet Airedale. They've just written their story of how they got to live with their mum and dad. They are cool girls and their blog has fabulous photos to look at.
We'd like to pass the 'You make my day' award to both of them.
Have a nice day, everybody!
Finni