This is my Holiday Look
… very relaxed and fitting an Earth Dawg!!!!
We've been on Holiday in Wales – made it this time, no traffic jams and the weather was nice for us too! We went to a place called Pembrey Country Park near Swansea on the South Wales coast. It was pretty good!
There was a good beach … especially for dogs … woohoo!
Naturally, I had to leave my visiting card!
There was plenty to check out.
Nelly liked it too even though her ear did a thing of it's own, hahaha.
We went to the beach every day and found some big metal things on the way there
The Country Park has many walks through the woods too.
During the war it was used as Ammunition Depot and we found some of the old tunnels for the trains
Interesting, ey?! I rather enjoy exploring things like that!
One day Mum and Dad took us to Tenby which is a bit further West along the coast. It's a very pretty place!
and we had fish and chips and ice cream!!!!!!!!!!!!!
You haven't had a holiday unless you've had an ice cream!!! Yummmers!
All those lovely walks left us pretty tired so we slept here …
… and here …
But Nelly mostly slept here …
so that she could keep a good eye on what's cooking in the kitchen!
and keep abreast with the news
The weather was really good and warm and we found a pond to have a paddle in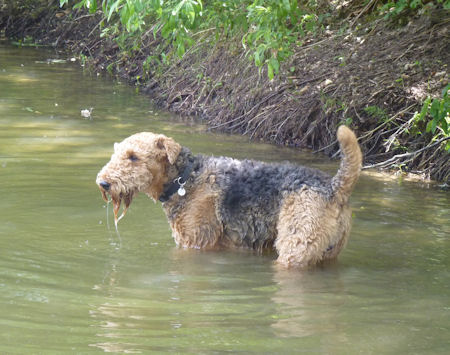 Nelly prefers to watch rather than get wet 🙂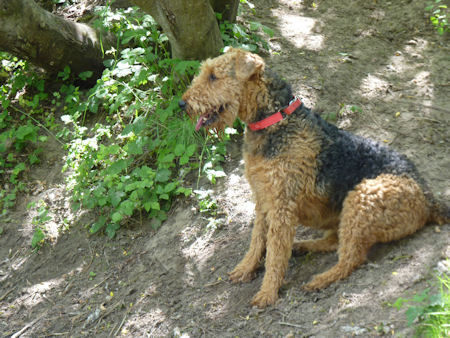 She said my holiday look was very cool but she didn't want to try it. But if you want to have a go at achieving that Earth Dawg look here is how it's done
Headrubs
Finni