Hiya everybody,
Mischka, Hoover and Violett posted that they are worried about us, but we are ok! Really! Mum has just been incredibly busy making and selling our humane collars and leads. She's designed a special multi purpose training lead too, and next she is looking into a harness that is super comfy for us pups!
She doesn't forget to take us for our walkies though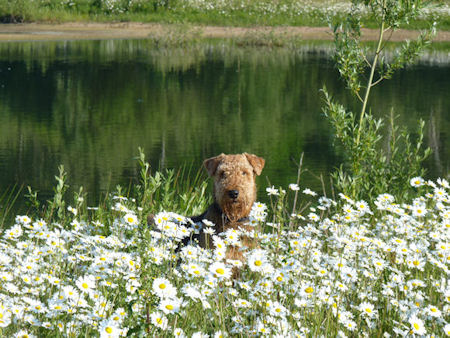 The daisies are out at the lakes and we are making the most of it.
We don't yet know if Nelly is pregnant. Her appetite is enormous!!! but other than that there are no other changes. We should know by the end of June if there are going to be Ragamuffinn babies though 🙂
I have started a new hobby …. collecting feathers.
Mum does encourage it as it is better for my teeth than Rocky fishing
(Rocky fishing is Finni's favourite game in the world but he tries to catch the rocks and has broken the tip of one of his canines 🙁 )
Mum is going to the Just Dogs Live Show in Peterborough in July with our collars and leads. If you are going, look for the Ragamuffinn Collar Shop and say 'Hello'! Lizzies Bark~ery will also be there with the most scrumptious human grade dog biscuits, pies and Wooffins!
Headrubs
Finni
PeeEss: Blogger still doesn't work properly for us 🙁 We will try and get round everybody after our hols! Love you all lots! If you want to browse around the collar shop just click on the picture below. The proper website is coming on a treat 🙂 and will soon be live!