It's over 6 weeks ago I last blogged!  Hope you have all been alright! Nelly and I haven't had much time to check out very many blogs these last few weeks. We've been building a patio  … with Martin's help!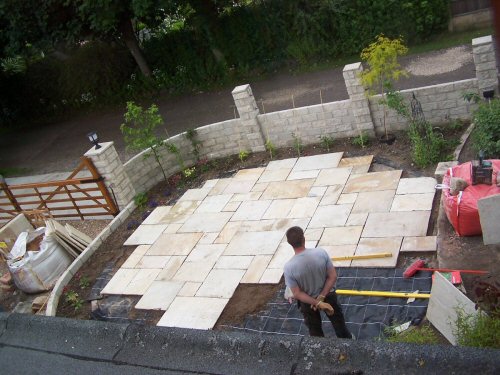 Of course Nelly and I were the first to try it out!
On this picture you can just see the railings between the pillars. Nelly jumped over the wall the day before they were fitted and Mum had to barricade us in until the next day!
But we're all safe and dog proof now! It's great!
I have also got a new front gate to guard! It's much bigger than the old one!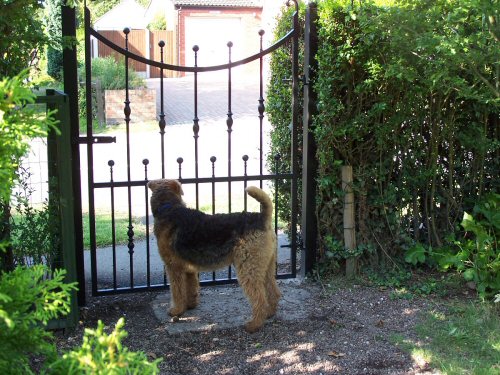 and I can see much more of what's going on in the road.
Nelly has been extremely busy taking care of builder's bags! with the help of her favourite toy 'Ratty'
who looks just like the real thing … we know because Nelly caught one … and played with it just like she plays with Ratty … throwing it in the air and stuff. She says real ones are better – they squeak!
My sister is a little hunter. She doesn't really like it when Mum makes her sit with flowers …
It is raining cats and dogs today and we were entertaining ourselves indoors. Nelly found a piece of carrot in the fridge and Mum gave me one as well.
Well … you probably know what my little sister was like when she was a tiny pup … She still plays the 'I want your chewie/ toy/ carrot' game. Trouble is, I just can't resist her. I tried growling … she is just too cute … you better see for yourself
.
.
Yes, she got it and ran off with it and munched it! And now we're waiting for the rain to stop so we can go for a walk.
Headrubs
Finni