Today I gave Nelly a short lesson in Lasagne apppreciation. As soon as the dish hit the floor both our heads were in it. [BTW Nelly can sit for 5 whole seconds now before she dives into her food bowl. She's doing very well!]
I showed her how best to get the last bits of that lovely meaty goodness out of the dish.
and when it comes to food my little sister is a quick learner!
Hmmm, she's holding on to something else! Typical girl … always multi-tasking!
Just a minute! That's my chewie!
Ok sis, you're on your own now.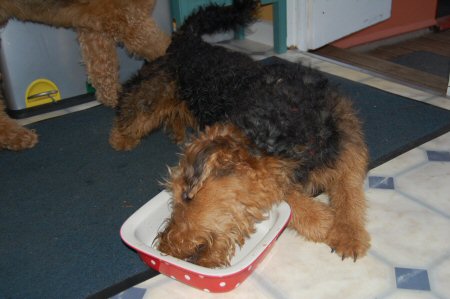 There! Nearly finished.
Just a little bit more in that corner…
Hang on, there's a bit more!
Aaah, got ya.
And me? I'm waiting for her outside …
with my chewie … naturally.
Headrubs
Finni
PeeEss: This is Mum and Nelly working on her 'Blob' this evening.