Hi All!
It's been a while since we blogged. The reason is that WordPress suddenly stopped working properly for us – but it's fixed now … mostly.
Anyway, Nelly and I have been having quite a bit of fun these last 2 weeks. She is growing and filling out and firming up on raw. We had a little problem with her being sick quite a bit for the first two weeks. She was literally inhaling her food in a few seconds flat and then brought it back a little while later, her stomach hadn't registered that food was coming "Wha….? Run that by me again!" So Mum made her chew a bone immediately after eating and … voila! She started keeping things down.
She also had to have her ears glued – she didn't like that one bit …
… and kept saying for Christmas she just wanted her ears back! … Well, she got her wish. The glue came undone one week after it was put on, but the ears are lovely and symmetrical now.
Mum has been very busy shopping, and of course this close to Christmas  it's … ELK SEASON!!!
The one on the left has no less than 6 squeakers in it – one in each foot, one in the nose and a honking one in the body – it's glorious! But Nelly's favourite game is 'I want your chewie!',  sometimes we swap toys and race around the garden and house.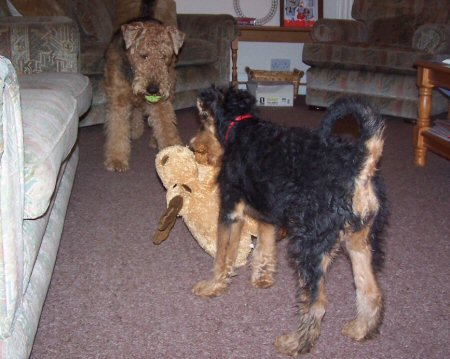 She hasn't been for a walk yet and keeps wondering what the lead is for.
Mum said over the Christmas period she will come a little walk with us. Cool, I can't wait.
One day last week the postie left us a parcel. It was for me and Nelly!  And it was from Molly and Taffy … Thank you so much M & T, we love presents!
We immediately started to open it but when Mum realized it was full of Christmas presents she quickly put it somewhere safe. Well, she thinks it's safe. The other morning she was in the shower and heard a rustling sound outside the bathroom door (Nelly waits for her on the upstairs landing) and when she came out she found that Nelly had found our other Christmas presents and played with all of them … she won't tell me what they are though!
Anyway, we're baking tomorrow – I love baking, I'm very attentive right by Mum's side especially when she makes pastry … with lard!
So I'll leave you with Nelly's 'Chicken wing dance'. She has an extra chicken wing when I'm on my evening walk.
Bye for now
Finni
Pee Ess: Apparently our clips are viewable in Internet Explorer only at the moment. Sorry.