Hi!
Look what Mum brought in from the garden this morning.
They are some of the windfalls that last night's wind has brought down from the trees. They will become apple sauce, apple sponge, apple-toffee and pecan nut pie, apple crumble etc…. I was allowed one of them to play 'windfall football'! But then the window cleaners came and I had to do a lot of guarding/barking.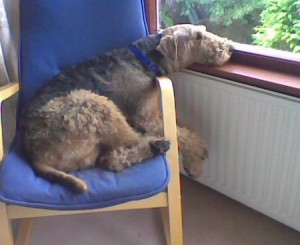 And whilst Mum is making all the aforementioned I'll do a bit more guarding.
Bye for now.
Finni