Hi All!
Me, Mum and Dad had a little holiday in the Forest of Dean, which is just on the border with Wales. We went camping in a Forestry Commission Site called Bracelands. From the site you can walk for miles in the forest, and on our first day we walked down to the river Wye. We found some nice carved seats for Mum and Dad to have a rest.
Conquering Biblins Bridge
We decided to cross the river. Now, the first time we came here I was only 6 months old and I was very scared of going on this bridge. I'm two and a half now so here is how it went …
… not bad, but towards the middle of the bridge my belly was nearly on the floor. This is a really squeaky, swaying bridge, but we made it over to the other side. Things went much better on the way back …
It was a lovely sunny day and we could see a long way ahead.
I'm off the lead most of the time.
This is the coolest place in hot weather …
… under the caravan!!!
Another day we went to Symmonds Yat. It's a great big mountain rock with a fabulous view over the river Wye. The weather had started to get a little damper by now …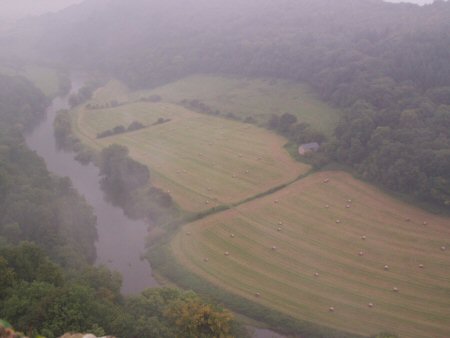 … and over the next days it really deteriorated …
Me and Mum just cuddled up inside the caravan and stayed nice and dry.
The weather turned really windy and wet and we watched people's awnings being destroyed so Mum and Dad decided it was time to come home – 2 days early. We'll explore the Brecon Beacons another time.
Tell you what, it was lovely to come home. Hope you all have nicer weather than us at the moment!
Bye for now.
Finni