This evening Mum, Dad and me finally remembered to take the camera to the lakes with us. So this is the very sandy path … nice to do a lot of scratching and occasionally digging in.
This leads us past a couple of lakes into the area for water sports, though today it was pretty quiet.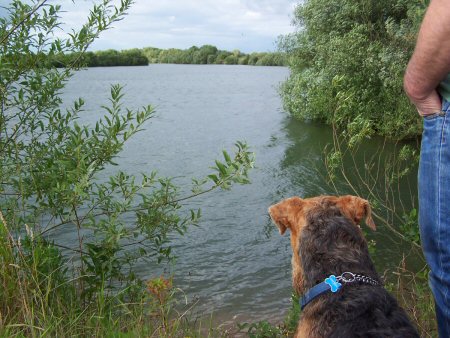 From here we trek along the shore through the long grass.
Mum is a right 'slowcoach' because she keeps on stopping and taking pictures of pretty flowers.
And Lakes … and birds and stuff.
Quite a lot of the lakes are securely fenced in so the birds can breed in peace.
… which is good because it means I can't get into trouble chasing them (Molly 🙂 ).
Come on, Mum! Let's go! The willow plantation is just around the corner …
I really love this bit, it's full of wildlife. And just after this photo was taken a hare jumped out in front of me and I just had to chase it……..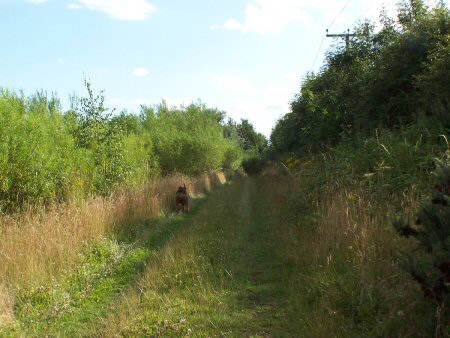 …………………………………………………………………………………………………..
………………………………………………………….
Right, I'm back! Didn't catch it but the chase was glorious fun.
We walk right round the willows which has another smaller lake within it.
Then it's off through the hedge and into the woods…
… at the shore of – you guessed it – yet another lake. Very refreshing, I'm making the ripples, ha ha.
This lake has a swan family with eight cygnets on it.
By now we're almost back at the beginning again. It's a great area to walk with humans and if you ever happen to come our way we'd love to take you round here!
Bye for now.
Finni
PS. How do you like my new beard dip? Trouble is when it's 'on' Mum keeps having to dash to the loo.