Thank you all for my Birthday Wishes. The cake was delicious, it had lots of cream on it…
… and I got some presents too – frisbees, one soft one with a squeaker for indoors and a hard rubber one for outdoors.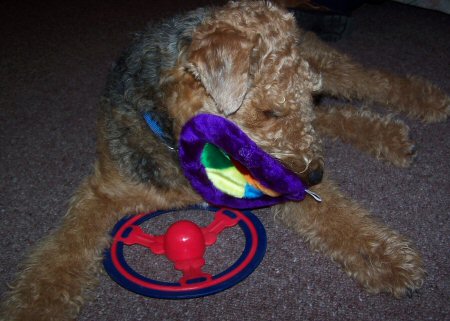 The soft one is a lot of fun. You can make it into purple duck lips and squeak it at the same time.
And on Tuesday Dave our postie brought me another present!!! It smelled so good!!! It was from Bogart!!!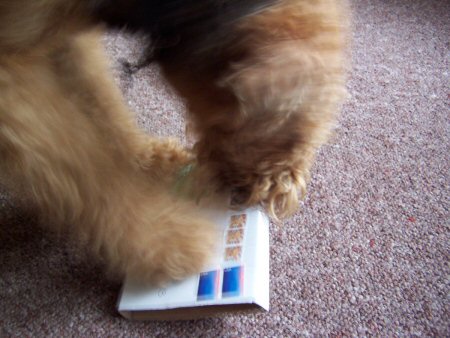 The Beagleboys didn't get mine either, woohoo!
Mine was Chicken Jerky. Yummmmmmmmm!!! That was soooo good.
I insisted on licking out the little bag it came in. Now I know why Bogart always looks so happy!!! Thank you Bogart for sharing your Happiness with me.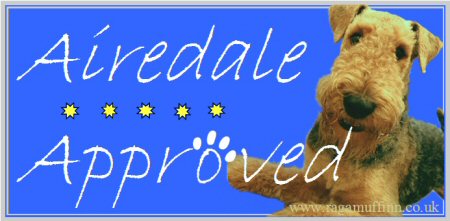 I'm giving these treats my 5 star approval and hope Bogart's mum and dad will go into production.
We also got some news yesterday … I'm going to be … a dad.
At the end of December Keith from Shadlian Airedales (I'm a Shadlian boy and that is where I go to get groomed!) phoned my mum and asked if they could bring one of their girls round to see me.
Well, to cut a long story of three meetings with a lovely bouncy Airedale girl named Tula short, there is going to be a litter of puppies at the beginning of March and one of my girls is coming to live with me! That's why mum has been looking at puppy pictures and pink dog baskets! She's very excited.
I suppose I could teach her how to do 'binspections' …..
Bye for now.
Finni