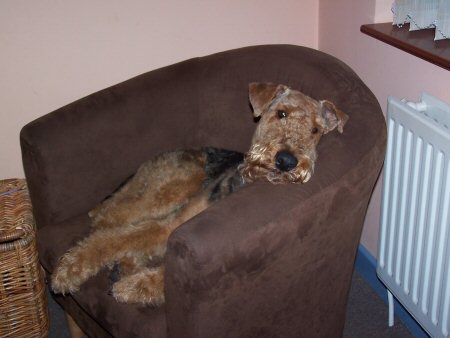 There we are … one Xmas 'Airedo'. After the grooming session on monday I climbed into this chair and didn't come out of it for two hours. Phew!
Everybody calls me 'Skinny Finni' now. Hmmm…
Elke and Pete let me sleep in the kitchen because they think I'm going to be too cold without my thick fur coat in the conservatory. I don't mind, I'll sleep anywhere they put my basket.
As you can see I also like to curl up in little places like my friend Harry. Any chair will do. This one is really handy. You can sit on it and look at it from the outside at the same time. Bonus!
We have been making a lot more friends lately (must be the haircut!). There are Maggie and Mitch – two Dales in Connecticut in the USA who have the best Christmas tree decorations ever! I love their blog and will be visiting them regularly.
And there is Martha – a Border Terrier in my village. We meet regularly now and have walks together and play, play, play. Martha is 8 months old and only comes up to my elbows so sometimes I lie down so we can play properly. This morning I shared half my walk with Martha and then we met Snoopy and shared the second half with her.
Me and Snoopy run, run, run.
The other friend I made on Tuesday was Chad. He is a small hooman who moves about on all fours like me. He is fast! He can stand on two legs as well. We had a little play together and Elke was really pleased about how good I was. I let Chad grab hold of my beard and lips and never grumbled. He was just sooo interesting. Such a small hooman!
We also shared a walk with Teya – an Airedale girl – and her black lab bro' Oscar the other morning. First I disappeared for a few minutes and then Teya did, Oscar didn't … must be a Terrier thing. Teya also loves chasing birds like I do.
And to top it all, this afternoon at the Lakes whilst I was good and walking to heel a lady said "Good afternoon." and "What a beautiful dog." … definitely friends!