I've got troubles … of the emotional kind … (sigh)
You see … Nelly and I do everything together …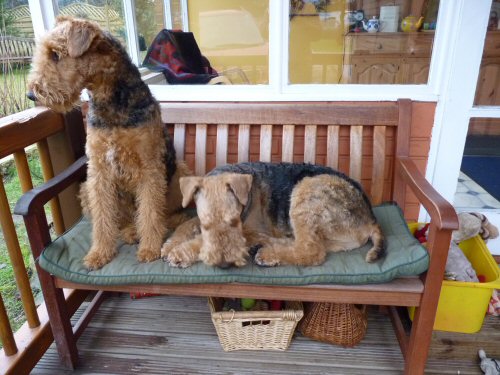 … and she kinda looks after me …
But now we're not allowed to be together … sigh … until next Tuesday!!!!! … and I have to sleep in Mum's bedroom …

I miss her! … and the little things she does …
The only one who understands me is Martin …
Luckily Martin is here every day. I spend a lot of time with him.
You see, he is building our new garage. That's why we haven't been blogging much lately.
This is what has happened so far:
This is where our old garage used to be. Dad and Martin dismantled it one day whilst Mum was away on one of her study days.
Then Dave came with his big noisy digger and pulled the old concrete pad up.
Then Martin and Dad prepared the new foundations, and
a great big cement mixer lorry came and Martin, Dave and Dad laid new foundations.
And then another big lorry came and brought loads of blocks and huge bags of sand and stuff
And this is how it looks this evening. Martin is really cracking on with it.
Sigh! … and that is Nelly in the foreground! I was on a walk with dad even though I keep telling them I don't want to go any further – can't we go back home now!? Please!?
Troubled Headrubs
Finni
PeeEss: Nelly's leg problem seems completely ok now and when she has finished her season (Tuesday!) she will be going on walks again. 😀
Thank you to everyone who has been asking after her!