Well, our little girl is definately back to normal, and as a special treat Mum took her to have her nails and hair done on Thursday.
And since our 'No Collars' fiasco Mum has been mega busy making us new ones! She bought a load of webbing and stuff from this place and Nelly is on 'Comfy Collar Mark IV' now. I'm wearing the 'Mark II' version and I have to say they are pretty good!
As we are both able to wriggle out of ordinary collars Mum has always got us half check collars even though she doesn't like all the metal. These home made collars are also half check but with webbing instead of metal, so they work on the same principle but are not as heavy.
And … to our great surprise when we came back from our walk with Dad we found two new baskets in place of our old ones! Well, Nelly couldn't make up her mind  which one she wanted:
the navy one with light paws …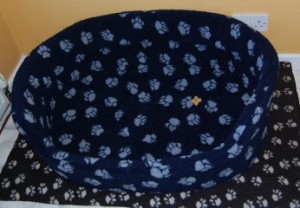 or ….
the wine coloured one with navy paws!
In the end she settled for the wine coloured one.
I'm glad really because I couldn't see myself in that one though I'm thinking of trying it one day.
if she lets me …
In the evening Nelly gave her basket a thorough 'test drive'. She tried it in every conceivable position …
Left inverted curl …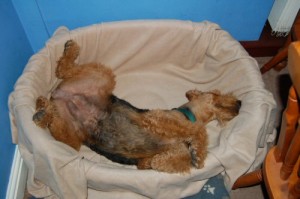 Straight down the middle …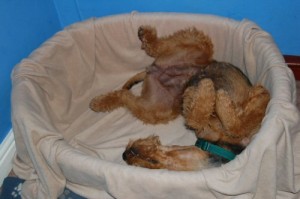 Right inverted curl …
and of course … the half in – half out position.
VERDICT: fabulous! We had a great  night's sleep and didn't wake Mum and Dad up at all last night! Mum just wants to say that the internet company she got these baskets from were one of the most helpful places she's ever dealt with – full marks to Farmways, the wine coloured basket wasn't even on their website!
Headrubs
Finni