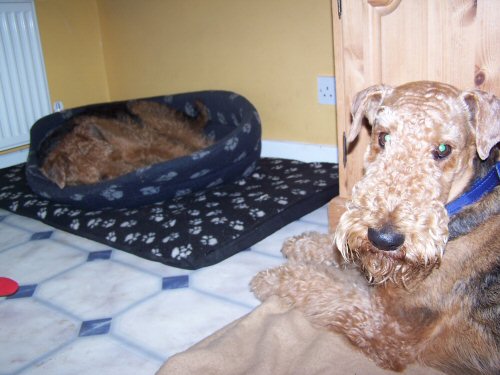 She won't let me into my basket! … all day long! … she hogs it! … only comes out to go for a walk, have dinner or go into the garden!… and she keeps growling at me when I go near her! Dad says it's a girl thing!
I just want to have a little look at it … the chewie … but all she does is squeal …  and growl! It's not fair!
She doesn't even want to play with me 🙁 so I'll just have to entertain myself … with favourite elk 🙂 ! Yeeaaah! …
I hope she cheers up soon. It's not so much fun without her.
Headrubs
Finni
{Nelly is going through the last bit of  a phantom pregnancy at the moment. She has decided that Finni's basket is the nicest place to 'nurse' her pretend babies – a crunched up blanket – and hardly leaves it. She is very hormonal!}