Hi Everybody!
Well, we made it to the Airedale Walk. This is the first time we've ever been to one of these and I have to say I loved it!!! I didn't want to go home! All in all there must have been about 50 Airedale Terriers there including Archie, Nelly's litter brother. They had a noisy reunion!
You can just see his sister Taya behind the chair looking down. Taya has a fascination with stones. To Archie's left is Oscar their black lab brother. He was honorary Airedale for the day.
We said Hello to a lot of Dales including this 1 year old with the most amazing bushy tail!
Then Nelly found Ellie and a little fella who looks just like our friend Pinot!
Ellie is 16 weeks old and my little sister and her hit it right off.
Dad and I checked out the BBQ facilities.
After all the introductions were made we set off down the canal tow path.
… and true to form Mum, Dad, Nelly and I fell back further and further until we couldn't see anybody else.
We would have got lost if it hadn't been for this young man and his Mum showing us the way to the River Aire.
Aaaaaaah, I feel right at home! Nothing nicer than cooling down hot paws in the river where my kind originated from.
They took us back the scenic way and we saw another lock with a barge passing through.  It was almost close enough to jump in … and the kitchen door was open …
Finally – after 2 hours – we were back at the 5 locks at Bingley
Turns out we were not the last ones … just. Back at the Airedale Boat Club were lots of tired Dales and hoomans enjoying refreshments.
After refreshments it was time for games! We entered Nelly in a sausage eating competition. We had real hopes but didn't factor in her fastidious nature. Because she insisted on licking each plate clean she was last.
Mum just managed to persuade her not to lick all the other contestant's plates clean too. LOL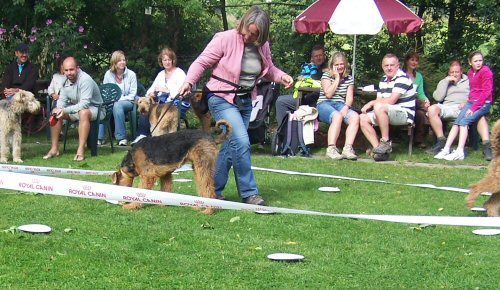 It was a great day out, even though Nelly was collecting quite a few boyfriends! We were on our best behaviour, and Mum and Dad said we'll be back next year!
Headrubs from a pretty tired
Finni