That's what Pete said this morning. It was throwing it down with rain. Wherever we went for a walk today there was flooding, so we decided to have washday!
I love washday. I'm allowed to help with sorting the dirty clothes.
I build a nest with them.
Anybody got time to play?
No? Ok, I'll take the puppy in the hall and make a start on removing the squeaker in its bottom.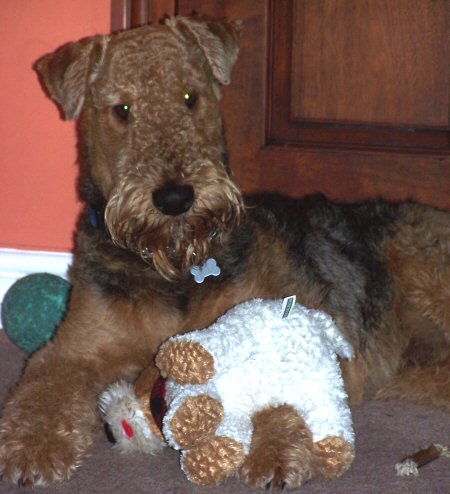 Nearly there. These things take their time.
Hope you're all having better weather than us.
Finni
Ps. Here are our online dog matching results:
First:
Stylish, noble, and athletic, the Airedale Terrier is both stoic hunter and playful clown. Yep, we're a good match!
Second:
The sweetie Wheatie is an exuberant companion. Where are his eyes?
Third:
These "Super Beagles" were crafted for the big hunt. Racing through the woods – yeah!!!
Fourth:

If you're a boater, fisherman, or simply love the water, this may be the breed for you. Nope, we're not boaters or fishermen – definitely landlubbers!
Fifth:
He may look delicate, but the whippet is a superb athlete as well as a gentle companion. We know a pack of whippets – we like them a lot.